NAMED IN COSMOPOLITAN as one of
"The 25 Most Unbelievable Celebrity Lookalikes Ever"
click here to read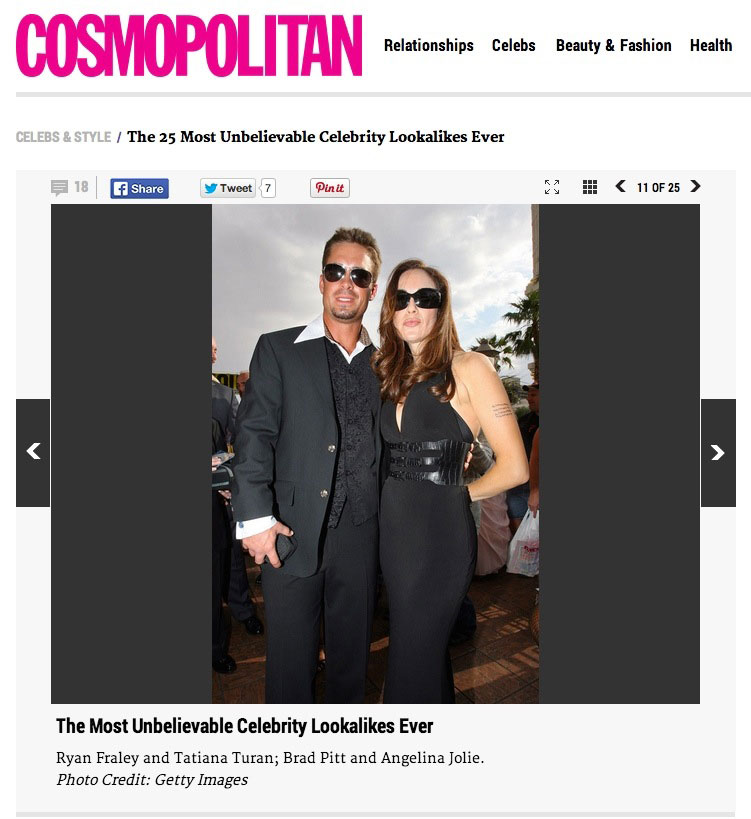 Tatiana Turan is an award winning Angelina Jolie look-alike whose remarkable resemblance to the Oscar winning actress has afforded her a long career – since 2002 – as the top Angelina Jolie impersonator. She has been featured in film, television, commercials, print and has been hired for red carpet appearances throughout the US and abroad.
Not only is Tatiana's look spot on, but her BA in Drama from The University of California, Irvine and her years of experience as a professional actress have given her the tools with which she is able to capture the essence, mannerisms and physicalities of Angelina every time she appears at an event.
Some of the highlights of her credits as Angelina Jolie include:
Access Hollywood Live 2012 (celebrity fashion segment)
NBC'S It's Worth What 2011
KTLA Morning News ~ Golden Gloss Awards 2010
The 2009 New Year's Day Tournament of Roses Parade
The 41 Year Old Virgin Who Knocked Up Sarah Marshall and Felt Superbad About It 2010
Angelina: Saint or Sinner 2008
Kambakkht Ishq 2009
Total Film Magazine 2011
Reveal Magazine 2011
Speak Up Magazine 2004
2009 Las Vegas REEL Award winner – Impersonator You Love to Work With
2005 Las Vegas REEL Award winner – Best Actress as Angelina Jolie
Tatiana can also be hired as Lara Croft when requested. And quite regularly she works with her Brad Pitt partner, Ryan Fraley traveling the globe as Hollywood's hottest couple!
Testimonials: